Anatomy and Pathology: The World's Best Anatomical Charts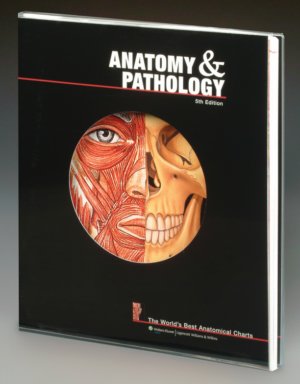 | | | |
| --- | --- | --- |
| Item | : | 9780781773560 |
| Copyright | : | 2007 |
| Edition | : | 5th |
| Pages | : | 62 |
| Charts | : | 58 |
| Cover | : | Softbound |
| Binding | : | Spiral |
| Trim Size | : | 10" x 12" (25.5 x 30.5 cm) |
This 5th Edition features 58 new and updated anatomical charts created by the world's best medical illustrators. This comprehensive reference is an essential addition for every library, whether you are a health professional, student, or interested consumer. This book is ideal for studying human anatomy, patient consultation, or for quick reference.
Since the last edition we've added 9 brand new charts and replaced 3 existing charts with new editions.

Anatomical charts show the human body in a format that provides a clear and visual understanding of human anatomy, physiology, and diseases. Medical terminology and easy-to-understand supporting text are printed directly on each chart so you never have to refer to a separate key card or manual.


Systems of the Body

The Digestive System
The Endocrine System
The Female Reproductive System
The Immune System: Allergic Response
The Lymphatic System
The Male Reproductive System
The Muscular System
The Nervous System
The Respiratory System
The Skeletal System
The Spinal Nerves
The Urinary Tract
The Vascular System and Viscera
Structures of the Body

The Brain
The Ear—Organs of Hearing and Balance
Ear, Nose and Throat
The Eye
Foot and Ankle
Hand and Wrist
The Heart
Hip and Knee
Internal Organs of the Human Body
Ligaments of the Joints
Pregnancy and Birth
The Prostate
Shoulder and Elbow
The Skin and Common Disorders
The Human Skull
Anatomy of the Teeth
The Vertebral Column
Diseases and Disorders

Understanding Allergies
Understanding Arthritis
Understanding Asthma
Understanding Breast Cancer
Understanding Colorectal Cancer
Understanding the Common Cold
Understanding Diabetes
Cardiovascular Disease
Chronic Obstructive Pulmonary Disease (COPD)
Understanding Depression
Diseases of the Digestive System
Gastroesphageal Disorders and Digestive Anatomy
Human Spine Disorders
Hypertension
Understanding Influenza
Understanding Lung Cancer
Understanding Menopause
Understanding Pain
Sexually Transmitted Infections
Understanding Sleep Disorders
Understanding Stroke
Thyroid Disorders
Healthy Lifestyles

BMI and Waist Circumference
Dangers of Alcohol
Keys to Healthy Eating
Risks of Obesity
Dangers of Smoking
Maintaining a Healthy Weight